FREQUENCY-DOMAIN ELECTROMAGNETICS
FDEM is a low-cost electromagnetic solution for shallow conductor mapping.
Multiple coil separations and frequencies available.
Simple operation, allowing survey in any environment (sand, gravel, outcrop, permafrost).
Inexpensive and straightforward to carry out.
Simple and accurate quantitative interpretation (location, width, depth, dip and conductance).
Investigation depth is generally ½ (to ¾) the coil separation in resistive environments.
Investigation depth is limited by frequency skin depth of conductive surface layer.
The In-phase component is highly sensitive to coil orientation and spacing.
Survey Parameters
Operating survey frequencies and coil separation are optimized to map local geology.
Readings are normally taken at intervals of ¼ the coil separation.
Both In-phase and Out-of-phase components of the secondary electromagnetic field are recorded.
Instruments: MaxMin I (9 frequencies) coupled to a MMC notebook from Apex. Coil separations from xx m to yy m are available.
Supplied Products
In-phase and out-of-phase stacked profile map for each frequency.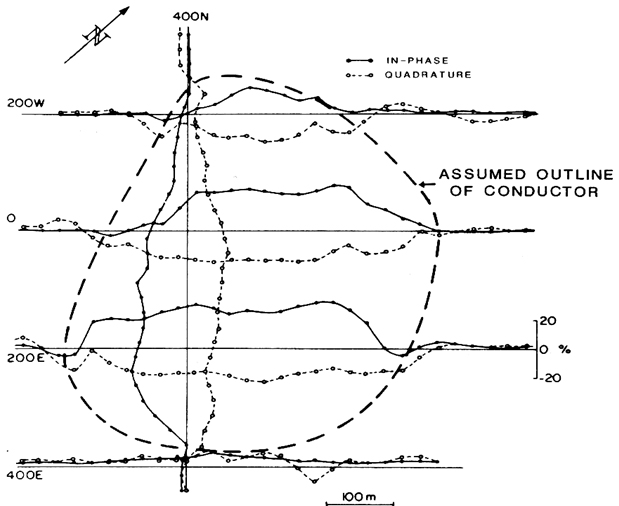 HLEM profiles over a weathered kimberlite pipe (loop separation = 75 m, frequency = 888 Hz).
The In-phase anomaly is reversed due to the magnetic nature of the source.
(Geophysics 44, Macnae, 1979)

Visit our Case Study Tool to see what FDEM has discovered over the years.