Case studies and updates about Abitibi Geophysics
What is an aeromagnetic geophysical survey?
Aeromagnetic geophysical surveys consist of measuring the intensity of the geomagnetic field in order to detect local magnetic variations from the rocks. The resulting aeromagnetic data is generally used to support the mapping of geological formations and accidents that have effects on these in order to directly detect any concentrations of magnetic minerals.

The magnetism of a rock

At the time of its creation or during its evolution, a rock could have acquired its magnetic properties which are influenced by the old magnetic field (remanent magnetization), or coupled with the current magnetic field (ambient field). In the latter case, the magnetization is directed according to the Earth's magnetic field and is hence proportional to it. The coefficient of proportionality defines the magnetic susceptibility of the material or medium. This susceptibility depends on the magnetic mineral content found in the rock, which is found to be principally magnetite and pyrrhotite. For example, mafic and ultramafic rocks have a higher concentration of magnetite than felsic, metamorphic and sedimentary rocks. Geologists often make use aeromagnetic data to develop diagrams that map out the contacts that exist between these geological units.

Who needs an aeromagnetic geophysical survey?

This type of survey is used by the government geological service and is quite useful for land-use development and planning. It is also used by mining and oil exploration companies, as well as for hydrogeological, archaeological, environmental and even military research.

What are the advantages of an aeromagnetic geophysical survey?

There are many different types of aeromagnetic geophysical surveys: magnetic, radiometric, electromagnetic, gravimetric and fixed onto a wing or on heliborne platforms. These surveys make it possible to effectively cover large areas that may be inaccessible or even dangerous without requiring any line cutting, thereby dramatically reducing overhead so that costs are lower than those of any geophysical land survey for a large area. However, the resolution they provide is lower than that of terrestrial geophysical surveys. Generally, an airborne magnetic survey can not accurately locate drill targets.

How does aeromagnetic surveying work?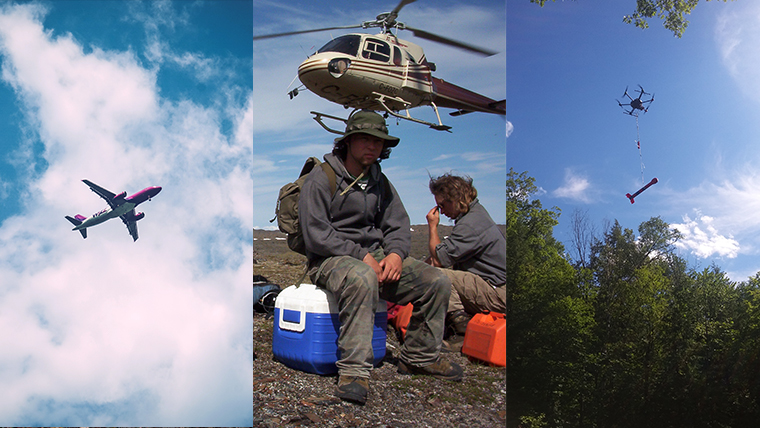 Magnetometers are fixed onto an aircraft, a helicopter or an unmanned aerial vehicle (UAV) that flies over the area by performing a series of equidistant linear pathways to collect magnetic measurements. The direction of the lines is generally perpendicular to the geological structures of the area to study. Then, the data is processed to produce profiles, maps and models that geologists can interpret.

Modern technology in geophysical drone surveys is now able to sample date at very high resolution compared to those of geophysical land surveys on the ground and do so at a lower cost and without having to resort to line cutting.

What types of deposits can an aeromagnetic survey uncover?

Aeromagnetic surveys can be used directly or indirectly to identify several different types of deposits and are especially effective in detecting iron deposits, titanium deposits, kimberlitic pipes (sources of diamond deposits), bauxite deposits and rare earth elements (tantalum and niobium) linked with carbonatites.


They are also widely used to identify and locate chromium and nickel deposits associated with ultramafic rocks, volcanogenic massive sulphide (VMS) deposits, porphyry copper and iron-copper-gold oxide deposits (IOCG) of the type found in the Olympic Dam.


To learn more about aeromagnetic geophysical surveys, please contact one of our specialists.